Friday Update

January 27, 2023

Happy Friday!  The sun is shining today.  I almost forgot what it looked like, we've had so much rain.   Father Birendra just poked his head in the office and told me to leave at 12:00 noon today. He keeps telling me "go...

Join Us for the Steubenville East Youth Conference!

January 26, 2023

"Come to me, all you who labor and are burdened, and I will give you rest." Author: Matthew 11:28 Video: https://youtu.be/HB6BKDafVyo Dear St. Mark Family, We have an amazing opportunity for students in Grades 8-12 that you...
Mass Schedule
Weekend Masses:
Saturdays:
5:00 PM
Sundays:
7:30 AM
9:00 AM
10:30 AM
12:00 PM
Live Stream Mass:
YouTube Live
Sundays, 9:00 AM
Mon-Sat, 8:00 AM
Daily Mass:
Monday-Saturday:
8:00 AM
Confession:
Saturday, 3:30-4:30 PM
or by appointment
Perpetual Adoration:
24 hours
I give thanks to my God at every remembrance of you, praying always with joy in my every prayer for all of you, because of your partnership for the gospel from the first day until now. (Phil.1:3-5). Dear Saint Mark Parish Family: It is hard to believe that already one...
St Mark Parish held our FIRST Family Fun Night on Friday December 10th; a great time was had by all! Use the link below to view some photos of families enjoying the holiday festivities. Were you there? See if you can find yourself in a picture!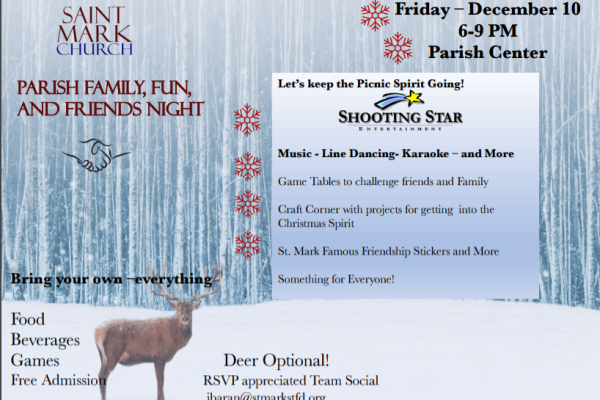 Social Events Committee has gone and done it again! They have set aside Friday evening, December 10, for a Parish Family, Fun, and Friends Night! Please join us for this free event in the Parish Center beginning at 6:00 p.m. till 9:00 p.m. This is a "bring your own everything"...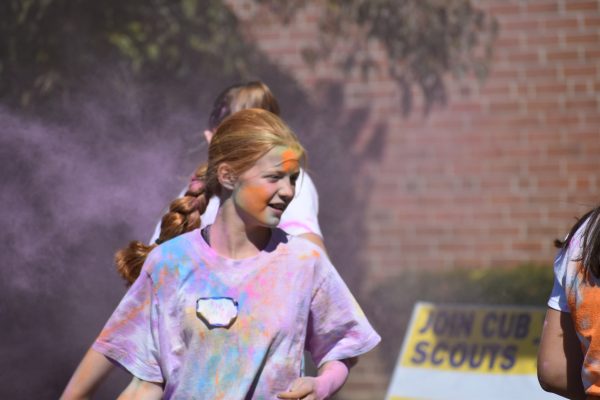 On Sunday, September 19, our Youth Group hosted a Color Run event to kick off the fall semester. It was an opportunity for youth to come together to meet new friends and have some fun getting messy while learning about our Junior Youth Group (for 6-8th graders) and Senior Youth...
Contact Us!
Office Phone:
203-377-0444
Religious Education:
203-257-8342
Address:
500 Wigwam Lane
Stratford, CT 06614
Friday of the Third Week of Ordinary Time

Reading 1 Heb 10:32-39 Remember the days past when, after you had been enlightened,  you endured a great contest of suffering. At times you were publicly exposed to abuse and affliction;  at other times you associated yourselves with those so treated. You even joined in the sufferings of those in prison  and joyfully accepted the […]