A Few Updates

September 30, 2022

Hi everyone,        Don't think that I am taking Paula's place to send Friday email.         Just a few updates:          It seems like we are also getting some effects of hurricane Ian and tomorrow is going to be a...

St. Mark Parish Picnic is September 25!

September 16, 2022

St. Mark Parish Family Picnic Don't forget our annual Family Celebration Next Sunday- Sept. 25- Following the 12 Mass until 4 > Music - Entertainment - Games - Crafts - and more > Food by St. Mark 'Kitchen Magicians' and...
Mass Schedule
Weekend Masses:
Saturdays:
5:00 PM
Sundays:
7:30 AM
9:00 AM
10:30 AM
12:00 PM
Live Stream Mass:
YouTube Live
Sundays, 9:00 AM
Mon-Sat, 8:00 AM
Daily Mass:
Monday-Saturday:
8:00 AM
Confession:
Saturday, 3:30-4:30 PM
or by appointment
Perpetual Adoration:
24 hours
Saint Mark on Stewardship… I give thanks to my God at every remembrance of you, praying always with joy in my every prayer for all of you, because of your partnership for the gospel from the first day until now. (Phil.1:3-5) My Dear Parish family, In the midst of COVID-19,...
St Mark Parish held our FIRST Family Fun Night on Friday December 10th; a great time was had by all! Use the link below to view some photos of families enjoying the holiday festivities. Were you there? See if you can find yourself in a picture!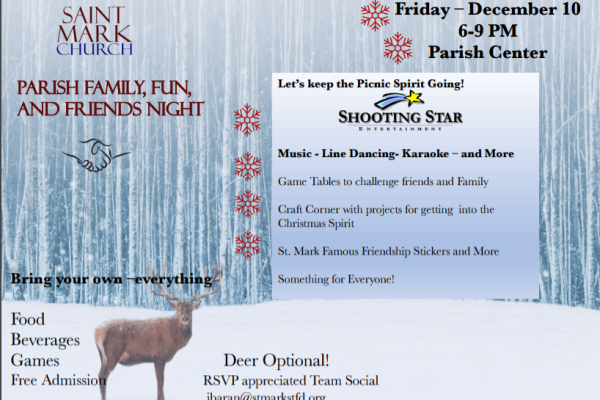 Social Events Committee has gone and done it again! They have set aside Friday evening, December 10, for a Parish Family, Fun, and Friends Night! Please join us for this free event in the Parish Center beginning at 6:00 p.m. till 9:00 p.m. This is a "bring your own everything"...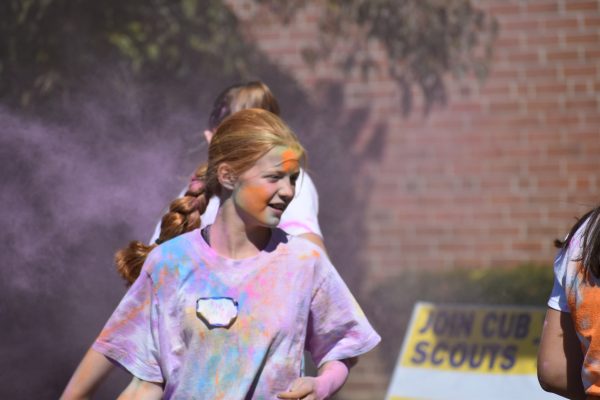 On Sunday, September 19, our Youth Group hosted a Color Run event to kick off the fall semester. It was an opportunity for youth to come together to meet new friends and have some fun getting messy while learning about our Junior Youth Group (for 6-8th graders) and Senior Youth...
Contact Us!
Office Phone:
203-377-0444
Religious Education:
203-257-8342
Address:
500 Wigwam Lane
Stratford, CT 06614