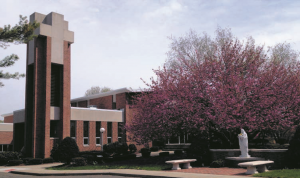 Saint Mark Church was established on May 25, 1960 by then Bishop Lawrence J. Shehan of the Diocese of Bridgeport, with 400 founding families. Reverend John P. McNerney was appointed its first pastor.
A temporary chapel was built on the grounds at 500 Wigwam Lane and on December 12, 1961 was dedicated by Bishop Walter W, Curtis. This chapel later grew to become the present church. The elementary school opened in September 1964 and was originally staffed by the Sisters of the Holy Family of Nazareth, with a convent added in April 1966.
In 1969 Father Lawrence McMahon was installed as the second pastor of Saint Mark Church. During his tenure the parish saw significant growth and improvements. A spacious Parish Center was built in 1993, featuring amenities such as Social Hall/Gymnasium, kitchen, new kindergarten classroom and religious education office. His Eminence Edward Cardinal Egan dedicated the new buildings and additions on April 21, 1994.
The year 2000 saw the church further expanded with the addition of a Memorial Bell Tower, elevator, upgraded reconciliation room, and many needed repairs to the church and school. In February 2004 the Eucharist Chapel of Divine Mercy opened to provide perpetual adoration of the Blessed Sacrament in the Memorial Bell Tower.
On February 19, 1993 Pope John Paul II designated Father McMahon a domestic Prelate with the title of Reverend Monsignor. Monsignor McMahon had a marvelous singing voice and excellent acting abilities! During his time as pastor, the parish produced numerous Broadway musical shows. Monsignor McMahon was the quintessential "gentleman-priest". He cherished his flock and served his parishioners with distinction for nearly thirty- five years. Monsignor McMahon retired from Saint Mark's in 2003 and entered into eternal rest on December 15, 2009. Today the Parish Center bears the Monsignor's name as a lasting tribute to his outstanding legacy as pastor.
With the retirement of Monsignor McMahon, Father Donald Guglielmi was installed as the third pastor at Saint Mark's parish in July 2003. During his 12 year tenure Father Don (as he liked to be called) oversaw the pastoral, liturgical and spiritual care of a growing parish.
A renovation project of the church interior and sanctuary was initiated in 2009. The upgrade included additions such as: a new crucifix installed over the altar; the Blessed Sacrament relocated to the center of the sanctuary framed by hand-painted statues of Saint Joseph and Saint Mark; a life-size image of Jesus, Divine Mercy (painted by Deacon Thomas Masaryk); a beautiful statue of Our Lady of Grace overlooked by a striking replica painting of Blessed Fra Angelico's Annunciation that comprises the Marian shrine; and a new baptismal font. All of these can be seen in the church today.
In July 2015 Bishop Frank Caggiano asked Father Don to become a full-time faculty member of Saint Joseph's Seminary in Yonkers, NY, Today he is one of four canonical spiritual directors and teaches courses in theology.
Father Birendra Soreng (Father Birendra as he prefers to be called) arrived at Saint Mark's as parochial vicar in October 2006, having come from the Diocese of Simdega, India. Father Birendra assisted Father Don in the spiritual care of the parish, as well as working with the children at the parish school. In August 2015 with the promotion of Father Don Bishop Frank Caggiano installed Father Birendra as the fourth pastor at Saint Mark Church.
Under Father Birendra's leadership many of the buildings at Saint Mark's have undergone a major restoration effort, principally featuring improvements and new roofing on the Church, Parish Center, Saint Mark School and rectory, with the addition of additional lighting in the parking areas, and new handicapped-accessible ramps.
Currently the parish hosts a wide range of ministries, including bible study groups, daily rosary after the morning Mass, First Friday Holy Hour, First Saturday devotions in honor of the Immaculate Heart of Mary, "Men for Christ", a First Saturday Men's Group, La Pieta Prayer Group, the Ministry to the Sick/Homebound, and Divine Mercy Cenacles. At Christmastime the parish has a "Giving Tree" project which provides hundreds of gifts to area families in need. A children's Mass is held on the first Sunday of every month at 9:00am, and a teen Mass celebrated on the third Sunday of every month at 12:00 noon; both of which provide spiritual enrichment to the children and youth of our parish.
In addition to the ministries, there are two social support groups which provide meals to those in need: Feed The Hungry Ministry provides a meal for the Bridgeport Rescue Mission monthly; and Merton House Ministry which provides a meal twice a month at the Thomas Merton House.
The parish also features three social groups. The Men's League holds the annual Walter Wright Jr. Memorial Basketball Tournament each February and March. The Guild of Our Lady of Saint Mark comprises a group of women who meet regularly for social and spiritual purposes, and the parish chapter of the Knights of Columbus – Saint John Paul II Knights of Columbus Council #8.
Saint Mark Parish today includes 3500 registered parishioners, with a K through 8 award-winning nationally recognized blue ribbon school of excellence serving Stratford's North End community. It is an active, friendly, exciting parish family, offering a wonderful place to live and worship, where all are welcome!