Friday Update June 9, 2023

June 9, 2023

Hasn't it been an unbelievable week with the weather in the USA affected by the fires in Canada!  Let's pray that the fires are contained soon.   Here are the updates for this coming week/weekend:   TWO COLLECTIONS ...

Friday Update June 2, 2023

June 2, 2023

Another gorgeous day!   Here are the updates for this coming week/weekend:   ONE COLLECTION :  There is one collection this weekend:  Stewardship.   ANNUAL BISHOP'S APPEAL:   We are getting there!  At present, we are at...
Mass Schedule
Weekend Masses:
Saturdays:
5:00 PM
Sundays:
7:30 AM
9:00 AM
10:30 AM
12:00 PM
Live Stream Mass:
YouTube Live
Sundays, 9:00 AM
Mon-Sat, 8:00 AM
Daily Mass:
Monday-Saturday:
8:00 AM
Confession:
Saturday, 3:30-4:30 PM
or by appointment
Perpetual Adoration:
24 hours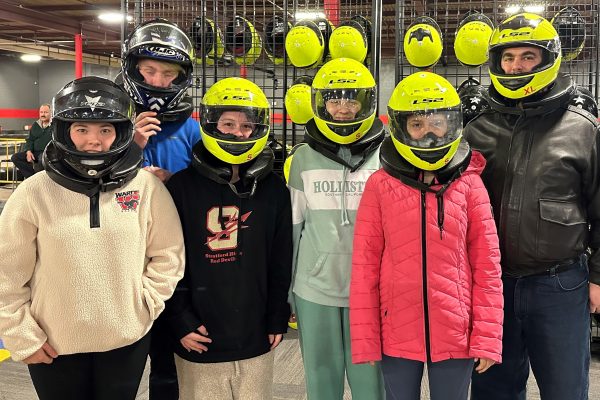 On Sunday, February 5, members of our junior and senior youth group went go-karting in Wallingford, CT. We had fun taking laps around the course, and perhaps gained some good practice for when we get our licenses!
St Mark Parish held our FIRST Family Fun Night on Friday December 10th; a great time was had by all! Use the link below to view some photos of families enjoying the holiday festivities. Were you there? See if you can find yourself in a picture!
I give thanks to my God at every remembrance of you, praying always with joy in my every prayer for all of you, because of your partnership for the gospel from the first day until now. (Phil.1:3-5). Dear Saint Mark Parish Family: It is hard to believe that already one...
Contact Us!
Office Phone:
203-377-0444
Religious Education:
203-257-8342
Address:
500 Wigwam Lane
Stratford, CT 06614
Friday of the Ninth Week in Ordinary Time

Reading 1 Tb 11:5-17 Anna sat watching the road by which her son was to come.When she saw him coming, she exclaimed to his father,"Tobit, your son is coming, and the man who traveled with him!"Raphael said to Tobiah before he reached his father:"I am certain that his eyes will be opened.Smear the fish gall […]