Friday Update March 31, 2023

March 30, 2023

As we head into Palm Sunday and Holy Week there is a lot to remind you about.   First, good morning!   What a beautiful, if chilly, day.    Let's get down to business!    OFFICE CLOSED :  The office will be closed...

Friday Update March 24, 2023

March 24, 2023

Quite a few updates today.  I'm almost afraid to hit the "send" button for fear that I missed something.  Messages are coming in from Fathers, eMail, phone, etc.!   Here we go!   URGENT NEED :  Deacon Paul is in dire...
Holy Week Schedule
Reconciliation Monday:
Monday, April 3
3:00-9:00 PM: Confession
St. Mark, St. James, St. Lawrence
Holy Thursday:
Thursday, April 6
No 8:00 AM Mass
12:00-1:00 PM: Confession
7:30 PM: Mass of the Lord's Supper (Live Stream)
Good Friday:
Friday, April 7
No 8:00 AM Mass
11:00 AM-12:00 PM: Confession
3:00 PM: Solemn Liturgy of Good Friday (Live Stream)
Holy Saturday:
Saturday, April 8
No 8:00 AM Mass
11:00 AM-12:00 PM: Confession
7:30 PM: Easter Vigil (Live Stream)
Easter Sunday:
7:30 AM: Mass
9:00 AM: Mass
10:30 AM: Mass (Live Stream)
12:00 PM: Mass
Mass Schedule
Weekend Masses:
Saturdays:
5:00 PM
Sundays:
7:30 AM
9:00 AM
10:30 AM
12:00 PM
Live Stream Mass:
YouTube Live
Sundays, 9:00 AM
Mon-Sat, 8:00 AM
Daily Mass:
Monday-Saturday:
8:00 AM
Monday-Friday During Lent:
6:00 PM
Stations of the Cross:
(During Lent)
Fridays, 4:00 & 6:30 PM
Confession:
Saturday, 3:30-4:30 PM
or by appointment
Perpetual Adoration:
24 hours
I give thanks to my God at every remembrance of you, praying always with joy in my every prayer for all of you, because of your partnership for the gospel from the first day until now. (Phil.1:3-5). Dear Saint Mark Parish Family: It is hard to believe that already one...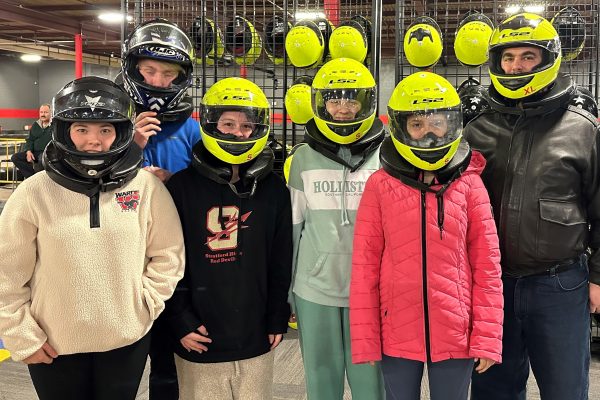 On Sunday, February 5, members of our junior and senior youth group went go-karting in Wallingford, CT. We had fun taking laps around the course, and perhaps gained some good practice for when we get our licenses!
St Mark Parish held our FIRST Family Fun Night on Friday December 10th; a great time was had by all! Use the link below to view some photos of families enjoying the holiday festivities. Were you there? See if you can find yourself in a picture!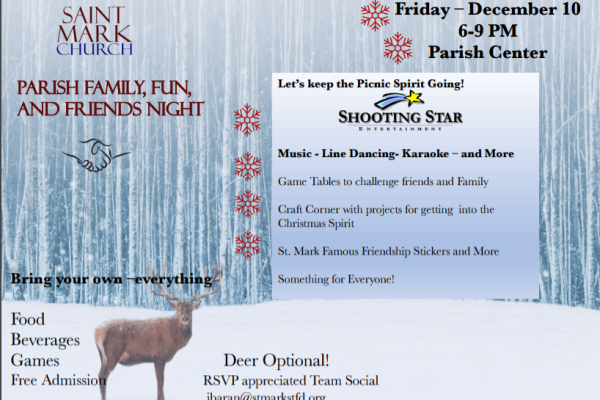 Social Events Committee has gone and done it again! They have set aside Friday evening, December 10, for a Parish Family, Fun, and Friends Night! Please join us for this free event in the Parish Center beginning at 6:00 p.m. till 9:00 p.m. This is a "bring your own everything"...
Contact Us!
Office Phone:
203-377-0444
Religious Education:
203-257-8342
Address:
500 Wigwam Lane
Stratford, CT 06614
Saturday of the Fifth Week of Lent

Reading 1 Ez 37:21-28 Thus says the Lord GOD:I will take the children of Israel from among the nationsto which they have come,and gather them from all sides to bring them back to their land.I will make them one nation upon the land,in the mountains of Israel,and there shall be one prince for them all. […]