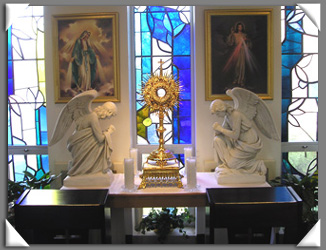 The Chapel of Divine Mercy is open from 3:00 PM Sunday through 10:00 AM Saturday, 24 hours per day.
Eucharistic Adorers are needed!
Please consider volunteering an hour of your time and becoming a regular adorer. You may also stop in any time you wish as your schedule allows, for any length of time.
For more information, please contact:
Gary Tennyson
tennysg@comcast.net
203-953-1200

R. Scott Goodfellow
rscottgoodfellow@aol.com
203-394-2248