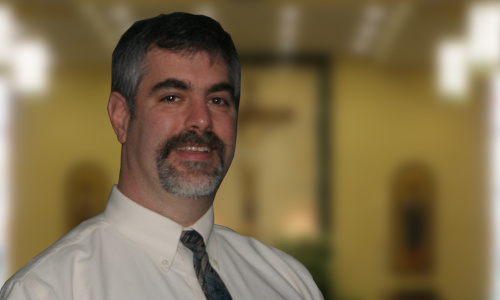 Jared has been a St. Mark parishioner and staff member since 2010. As Youth Minister, he is responsible for overseeing our two youth groups for middle school and high school students. In addition, he oversees Ascension, our youth contemporary music ministry.
Jared grew up in Norwalk, CT, where he attended St. Matthew Church for most of his life. He was an altar server, member of the high school youth group, and part of the St. Matthew Emmaus retreat ministry for 17 years. He served as high school youth minister for five years before coming to St. Mark.
He attended the University of Hartford, where he earned a degree in Acoustic Engineering and Music, an interdisciplinary major in the College of Engineering and Hartt School of Music. He also earned a master's degree in information systems. He currently lives in Milford, works as an acoustical engineer at Sikorsky Aircraft in Stratford, and is owner of Shooting Star Entertainment, LLC, a professional mobile disc jockey service.
Jared has been happily married to his wife, Jessica (who he's pretty sure is already on the path to canonization), for 15 years. Along with their energetic four-year-old son, John, they can usually be spotted at 9:00 Mass on Sundays!