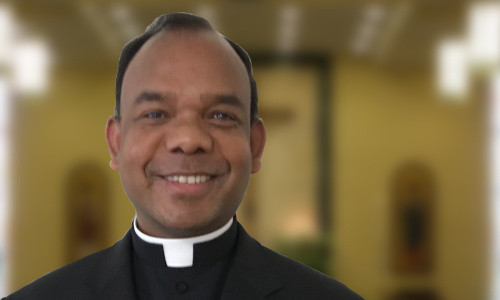 Dear parishioners,
The global outbreak of Coronavirus is affecting all aspects of our lives and we all are in a state of panic. It is not only affecting our economy but also our family and faith life. In times of a crisis of this magnitude, we always turn to our faith to find refuge, protection and peace. But due to the nature of this pandemic we are not even able to attend Mass. In this time of fear and uncertainty I would like to quote Archbishop José H. Gomez of Los Angeles, president of the U.S. Conference of Catholic Bishops, who in his message to all the faithful of America says:
God does not abandon us, He goes with us even now in this time of trial and testing. In this moment, it is important for us to anchor our hearts in the hope that we have in Jesus Christ. Now is the time to intensify our prayers and sacrifices for the love of God and the love of our neighbor. Let us draw closer to one another in our love for him, and rediscover the things that truly matter in our lives.
God assures us of His protection and care through His word in the Holy Scripture:
Do not fear: I am with you; do not be anxious: I am your God. I will strengthen you, I will help you, I will uphold you with my victorious right hand. (Is 41:10)
The LORD is my strength and my shield, in whom my heart trusts. I am helped, so my heart rejoices; with my song I praise him. (Ps 28:7)
Therefore let us turn to the Lord in this crisis and trust in our loving Father who loves us even when we go astray due to our sins. He is with us in this global crisis and is more powerful than any power on earth. With His help we will be able to withstand even this crisis.
All of you are aware that all weekday and Sunday Masses are being suspended temporarily by Bishop Caggiano due to the COVID-19. As a result we are already starting to experience the financial strain. Therefore it is my humble request to you my dear parishioners; please consider giving your donation to church either through online giving or by mailing in your church envelops. If you decide to donate through online giving, go to our website: (saintmarkchurchstratford.org) and you will be directed as to how to proceed.
In this time of global crisis and national emergency, let us keep one another and our health professionals in our prayers. We your clergy are praying for you and for your families. Our church and the adoration chapel will remain open during the day for silent prayer. Please stop by anytime to visit the Lord and say a short prayer for the safety of your family and our parish and country. Finally I would like to share the following prayer with you: