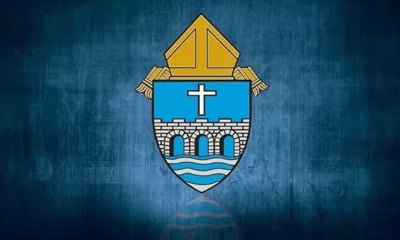 Although the State is not restricting religious gatherings of less than 50 people, NO MORE THAN 5 PERSONS (excluding the cameraperson) ARE TO BE PRESENT IN PERSON FOR ANY LITURGIES OF THE TRIDUUM. Other than the celebrant, those present can include the other priests or deacons assigned to or residing at the parish, a musician and/or cantor, who can also provide responses. Only a priest or deacon should proclaim the readings, and no Acolyte is permitted. In all situations, proper social distancing must be maintained.
THIS IS ALSO TRUE FOR ANY PRIVATE MASSES (BOTH WEEKDAYS AND SUNDAYS) CELEBRATED AT THE PARISHES, even when live-streamed or taped.
PALMS SUNDAY
Palms will be blessed on Palm Sunday during Mass but WILL NOT BE DISTRIBUTED TO THE LAY FAITHFUL ON THAT DAY. PALMS ARE TO BE DISTRIBUTED AT ALL PARISHES THROUGHOUT THE DIOCESE ON PENTECOST SUNDAY, MAY 31, 2020.
"DRIVE-IN" MASSES
Under no circumstances are parishes to provide so-called "Drive-In" Masses, at which parishioners are invited to remain in their vehicles in the church parking lot during the celebration of Mass. In my mind, that encourages a gathering that could easily exceed 50 people.
IN A NUTSHELL, THERE ARE NO PUBLIC MASSES OR SOLEMN LITURGIES ON PALM SUNDAY, HOLY THURSDAY, GOOD FRIDAY, EASTER VIGIL AND EASTER SUNDAY.